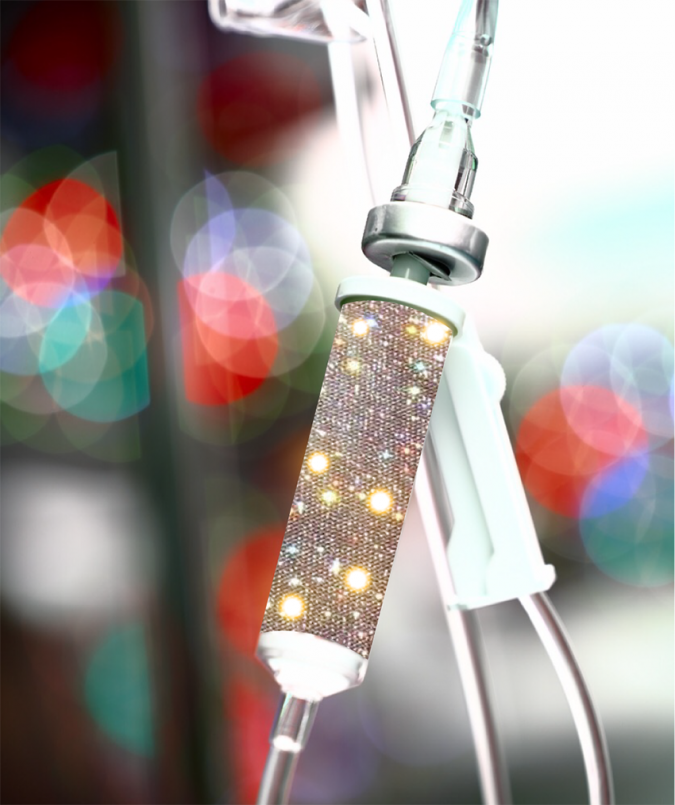 Xclusive Lashes & Beauty Bar is excited to offer IV drip therapy from Miriannys Rivas RN, BSN, MSN, FNP-C. Miriannys has received her certification in Hair Restoration and Kybella certification from the Aesthetic Institute of Massachusetts, as well as her certification in Advanced Sculptra Body & Brazilian Butt Lift from the Esthetic Skin Institute. Before beginning any of the below treatments, all clients are required to complete a full physical assessment, a medical questionnaire and undergo lab tests from Miriannnys or a separate nurse practitioner. Once completed and evaluated, each client will be given a customized plan for their wellness and recovery needs. IV drip therapy is painless and can last anywhere from 15-90 minutes. The IV drip therapy products and protocol used at Xclusive Lashes & Beauty Bar are from Olympia Pharmacy (FDA approved) and a list of the contents of each bag will be made available to clients.
IV DRIP THERAPY PRICING
RELIEF - ALLEVIATE : $120+
Minimize bloating, irritability, abdominal discomfort and PMS with a combination of Calcium Chloride, Magnesium, B1, B2, B3, B5, B6 & Hydroxocobalamin B12.
REHYDRATE - QUENCH : $120+
Hydrate and combat fatigue from dehydration with a concoction of Ascorbic Acid, B1, B3,  Magnesium CL, Zinc, Manganese, Copper & Selenium. An individualized assessment and dose adjustment will occur depending on BMI.
WELLNESS - MYERS' COCKTAIL : $120+
This is the gold standard for overall wellness with a combination of Magnesium CL, B1, B2, B3, B5, B6, B12, Hydro-Calcium Gluc- & Ascorbic Acid.
BOOST - "GET-UP-AND-GO" : $125+
Burn fat, feel energized, boost your metabolism and receive the nutrients needed for your optimal wellness with a concoction of B1, B2, B3, B5, B6, Glutamine, Lysine & Citrulline Carnitine. An individualized assessment and dose adjustment will occur depending on BMI.
GLOW - INNER BEAUTY : $130+
Fight acne, wrinkles and tired skin from the inside out with a combination of Ascorbic Acid, B1, B2, B3, B5, B6 & Biotin.
BE WELL - IMMUNITY: $145+
Boost your immune system, prevent illnesses and make yourself feel better faster after getting sick with Ascorbic Acid, B1, B2, B3, B5, B6 & Zinc Chloride.
HANGOVER RELIEF : $149+
A blend of electrolytes and amino acids that help restore hydration and address the most common hangover symptoms including headache and nausea.
ENHANCE - RECOVERY & PERFORMANCE : $150+
Decrease recovery time & enhance your performance with a combination of Ascorbic Acid, B1, B3, Glutamine, Arginine, Ornithine, Lysine, Citrulline Carnitine, Magnesium, Zinc Manganese, Copper & Selenium.
THE DRIP SKINNY - LIPOTROPIC MIC: $85/each or $450/6 sessions
This can be taken as a series of boosters over the source of six weeks. We also offer this as an add-on to any drip. Composed of three amino acids: Methionine, Inositol & Choline + L-Carniatine and B12. This IV infusion enhances alertness, clarity, improves cognitive performance and reduces stored fat.
À LA CARTE VITAMINS
The below vitamins may be given as an IV Push or an IM Booster Shot. An IV Push starts at $50+ and an IM Booster Shot starts at $25+
B12 
Alleviate stress, increase energy, increase metabolism promoting fat burn and rebuilds and maintain muscle.
BIOTIN
Promote healthy skin, hair and nails.
B COMPLEX
Enhance your metabolism and increase energy with  vitamin composed of B1, B2, B3, B5, B6, B7, B9 and B12. This vitamin promotes skin, hair and nail health.
COQ10
Slows down the aging process and protects the heart from heart disease.
L-CARNITINE
A potent fat burner that improves heart and brain function and enhances muscle building.
MAGNESIUM
Helps decrease migraines and supports a healthy immune and nervous system.
TORADOL
Short term treatment for moderate to severe pain. This vitamin is a nonsteroidal anti-inflammatory.
VITAMIN C
Strengthens the immune system and aids in eliminating toxins from the body with a natural energy booster.
VITAMIN D
Protects healthy bones.
ZOFRAN
Anti-nausea medication used to help treat vomiting.